Vastu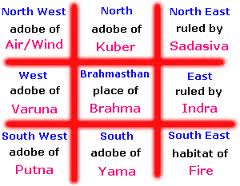 WHY Vaastu Required?
Vaastu is the science of direction that combines all the five elements of nature and balances them with man and materials. It is all about the interaction of various forms of best effect on a living person. It aims to create a subtle conducive atmosphere in a structure in which we can bring the best in ourselves, thereby paving the way for enhanced health, wealth, prosperity and happiness in an enlightened environment. Like any other science, vaastu is universal, rational, practical and utilitarian. It is not a religion but a science.
The principle laid down in Vastu Shastra were formulated keeping in view, the cosmic influence of the Sun, its light and heat, solar energy, directions of wind, the moon position, the earth's magnetic field and the influence of cosmos on our planet. The system is an admixture of science of directions, astronomy and astrology.
Sometimes, it so happens that we end up doing things that unconsciously harm us. Here, we will discuss remedies to the problems that generate in houses and offices constructed against the rules of Vastu -Shastra.
Rectification of a Vastu dosh requires changes in the rooms, by adjusting the placements through regulators or charged objects. Remember, every dosh has a remedy!